ABOUT RHA
ROCHESTER HOCKEY ACADEMY
Founded by former NHL player Rory Fitzpatrick, Rochester Hockey Academy was started to help players of all ages develop and improve upon your current skills so that you may become a stronger, more confident player. The staff at RHA is made up of passionate instructors with extensive hockey experience who stay up to date on the most current and effective coaching/instructing techniques. RHA works with players of all ages and skill levels ranging from beginner to pro and is also a proud partner with Next Level Strength and Conditioning - Rochester's premier sports performance training facility!
OUR PHILOSOPHY
We believe that talent is only a small component of what it takes to be successful. We know that it's what a player does beyond their regular games and practices that will make them stand out above the rest!
Because our coaches have an extensive hockey background and have been through the process already, we know that if you're not willing to put in the extra time and effort to gain an edge on the competition, someone else will leave you left behind! Our coaches know the value of hard work and the importance of having FUN! RHA promises to provide each player an opportunity to improve their game through positive coaching and a supportive learning environment.

Rory Fitzpatrick: President
The Irondequoit, NY, native has played 15 seasons of professional hockey… In his career, he has played in 287 regular season games in the NHL for the Buffalo Sabres, Montreal Canadiens, St. Louis Blues, Nashville Predators, Vancouver Canucks and Philadelphia Flyers… He has played in 430 AHL games and recorded 39 goals and 113 assists for teams in Rochester, Philadelphia, Hamilton, Worcester and Fredericton... Three times he has participated in the AHL All-Star Classic (1997, 1998 and 2009)… At the 1997 event, he won the hardest shot competition, firing the puck 92.4 miles per-hour... He was the captain of the PlanetUSA Team in 2009. Rory is married with one daughter and 3 sons. He played for Rochester Youth Hockey as a kid and is bringing his skill, passion for the game and knowledge back to his hometown to help take youth hockey in Rochester to a new level!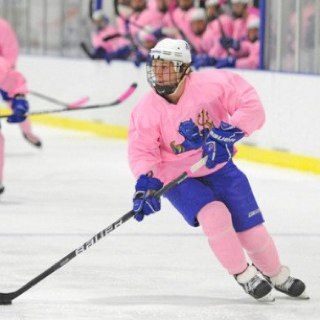 Mike Muhs: Manager/Instructor
Mike played at West Irondequoit High School and served as team captain in final season. He continued on to play one season in the Empire Junior League for Rochester,
participating in the junior jamboree all star game.  After that, he played two seasons at the Junior A level in the Eastern Junior Hockey League with the New Jersey Hitmen winning two league championships and making it to the National Tournament twice.  He then went on to play at SUNY Fredonia, graduating with a B.S Exercise Science.
Mike has a passion for working with hockey players and other athletes of all ages both on and off the ice. He is currently in charge of programming RHA Development and is a Strength Coach at Next Level Strength and Conditioning. He enjoys giving back to the hockey community in any way he can and takes a personal approach to coaching. He feels that as a coach/instructor you are responsible for developing both the player/athlete and person. He strives be a role a positive role model for younger athletes and to provide players with engaging and innovative ways to develop their skills. 
Colin Cook: Instructor
Colin brings over 10 years of coaching experience as a powerskating instructor and skill development coach. Colin grew up and played his minor hockey in Nova Scotia, Canada. After winning a Provincial Championship with the Dartmouth Subways Midget Hockey club he played two seasons of Prep School hockey in the USA before returning to Canada to for two seasons of Jr. A. Upon the completion of his junior career he accepted a scholarship to play for the Royal Military College of Canada (Canada's West Point) of Canadian Inter-university Sport (Canada's NCAA D-I equivalent). During his time as an Officer Cadet and varsity student-athlete Colin served as one of the team captains, led the team in scoring, received a number of awards for military leadership and was twice named an Academic All-Canadian.
Colin's coaching approach focuses on the delivery of highly structured drills and powerskating movements designed to foster individual skill development and increase performance. He has worked for numerous hockey schools, and previously ran his own on-ice skill development program in Nova Scotia. Colin has had the great fortune to have coached and help develop current NHL, Major Junior, NCAA D-I, Jr. A and Prep School hockey players.   
Dave Insalaco: Instructor
Played 4 years at Brockport College.He is seventh all-time at SUNY Brockport in goals and 10th in points. Insalaco was an All-SUNYAC second team selection in 2000 and Chase Memorial Academic Athletic Scholarship winner.Insalaco began his coaching career in 2002-03 as a volunteer assistant at the State University College at Brockport. In 2003-04, he moved to SUNY Geneseo as an assistant coach. There, he worked under current RIT Associate Head Coach Brian Hills for two seasons. During Insalaco's three seasons at SUNYGeneseo, the Ice Knights went 51-23-11 and earned two NCAA Division III Tournament berths. Current Asst Coach at RIT. Dave brings a level of passion and intensity to coaching and player development that is unmatched. His attention to detail and highly structured practice sessions will push players at any level to become their best.
Eric Sorenson: Director/Manager of RHA Goaltending
Eric grew up in Fairport, winning a sectional title in 2007 with the Red Raiders. That season he was also voted to the first All-Greater Rochester team, was voted First-team All-County, and was selected to the Bowman Cup Showcase, which the Rochester Seniors won for the first time. Following his high school career, Eric spent three years in the Syracuse Stars Junior organization, one on the Empire Jr. B team, and the final two seasons on their Jr. A EJHL team. From there, Eric progressed to the college level where he was a four year starter in net for the Western New England University Golden Bears (NCAA D-III, ECAC Northeast), located in Springfield, Massachusetts. At WNEU, Eric left the program as one of the most decorated goaltenders in school history, as he was a member of the most successful class of Golden Bears hockey players in over two decades, helping lead the program to their first winning season in 18 years. He also left with multiple records including most wins, and most saves in school history. He was also twice voted to the ECAC-NE All-Conference Second Team, a result of eleven goaltender of the week awards, and three All-Academic team awards. He graduated in 2014 with a Bachelor's in Sport Management.                                                                 
Eric has been coaching at a variety of goaltending camps for the last eight years, including working with NHL goaltending coaches Mitch Korn (WSH) and Mike Bales (PIT). He is currently the Director and Manager of RHA Goaltending and after spending the past year doing private lessons, he is excited to continue to give back to the Rochester hockey community. He also believes a combination of conventional and unconventional training techniques can help create the best enviroment to help improve a goaltender's abilities, while maintaining a fun and safe environment. In addition to his work with RHA Goaltending, Eric is an assistant coach at Nazareth College, where he works primarily with the goaltenders on a daily basis amongst his other duties.    
Brian Kelly: Instructor
Brian played Varsity Hockey and Lacrosse at Pittsford High School. He was captain of St. John Fisher College Hockey Team and recipient of Thomas M. Nicohls Scholarship for Leadership. Brain is currently director of programming at Paul Louis Arena and is also an Instructor for Bob Janosz School of Goaltending.
Jeff Lovier: Instructor
Grew up in Fairport playing AAA hockey. After playing Varsity hockey at Fairport he played for the Rochester Jr Americans for a year and then the Syracuse Jr. A Crunch. Played 4 years for Cortland State both forward and defense. For the Last 6 years he has been a volunteer assistant coach for a local Varsity High School team and just finished up his 5th year as Head coach for Fairport JV. Currently the Head Coach of Spencerport Varisity Hockey Team.
Jeremy Nau: Instructor
Jeremy comes to RHA with an impressive playing and coaching Resume. After recieving All County Selection at Spencerport High School Jeremy went to play Prep School and Colliege Hockey. While at Geneseo he earned Best Defensemen Honors and two years later he earned SUNYAC Challenge All-Tournament Team while playing for Cortland. Jeremy has over seven years of coaching experience ranging over a broad spectrum of ages and skill levels, with over three years of professional skill development and science-based athlete training.